JOIN OUR WORSHIP SERVICES LIVE
Top 3 Things To Know This Week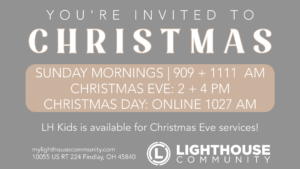 CHRISTMAS SCHEDULE
December is here and we know your schedule fills up quick. To start preparing, we wanted to share our schedule for Christmas this year! We will have two services on Christmas Eve (Saturday, December 24) at 2pm and 4pm with donut deliveries after each service! Christmas morning, (Sunday, December 25) join us online for service at 1027am!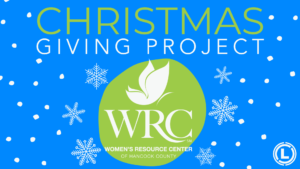 CHRISTMAS GIVING PROJECT

Every year, the family of churches partners together to support a gospel ministry. This year we have chosen to support Women's Resource Center of Findlay. WRC provides support and resources to women in Hancock County.
If you would like to give, mark your gift "Christmas Giving Project" during the month of December.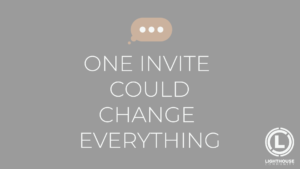 WHO ARE YOU INVITING?
Who are you inviting to join you this Christmas season? One of the simplest ways to introduce people to Jesus is to invite them to come with you to Lighthouse! Invite people you know, ask them to come with you next Sunday, and pray for God to open their eyes and hearts to his truth!